Our city environment allows the simulation of almost all traffic situations that can occur in the city center. This includes traffic light intersections, traffic circles, parking areas, crosswalks, bus stops and much more. The route sections are designed in such a way that they can be adapted very variably to the needs of the users.
The city environment also includes variable house backdrops made of concrete blocks as well as markings and signage that can be placed individually. Like the entire Aldenhoven Testing Center, the city environment is fully networked and connected to broadband. Thanks to Vodafone's 5G Mobility Lab, this includes latest-generation cellular standards, various WiFis, and traffic lights that communicate according to the V2X standard. The urban environment was built by RWTH Aachen University thanks to a grant from the German Federal Ministry of Education and Research. It is now being operated by the Aldenhoven Testing Center and is integrated into the familiar processes on site.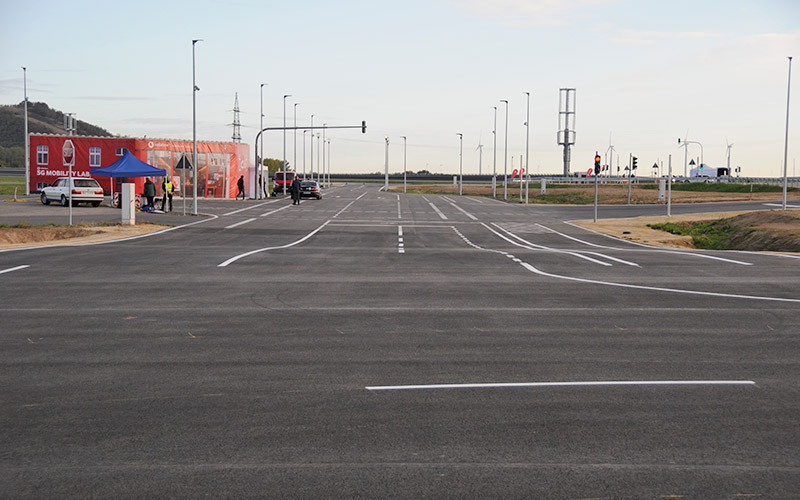 Intersections / Straights
The intersections and straight lines are highly variable and can thus be varied over a wide range for the respective test case in terms of their lane guidance as well as the simulated building backdrops. They also have close-meshed connection options for sensors as well as positions for traffic signals, signage and lighting.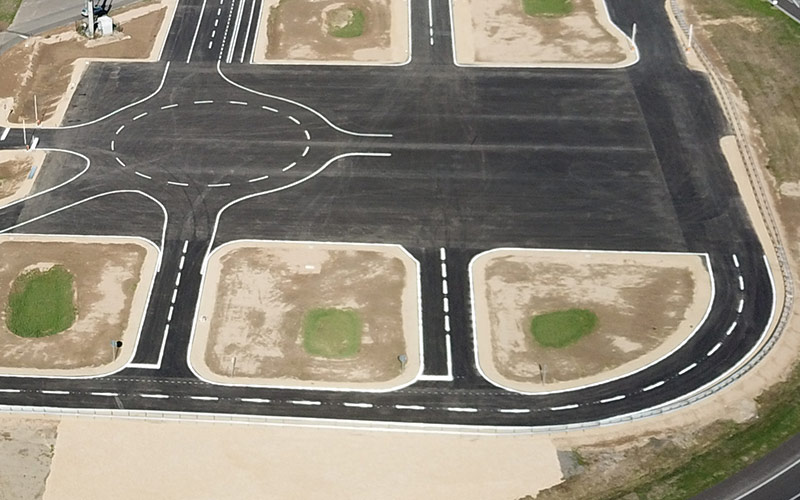 Multi-functional area
The multifunctional surface is 65 x 100 m2 in size. It has a max. longitudinal slope of 1 % and a cross slope of 0 %. The area has numerous access roads and an observation stand. Individual lane markings and structural traffic circles are possible.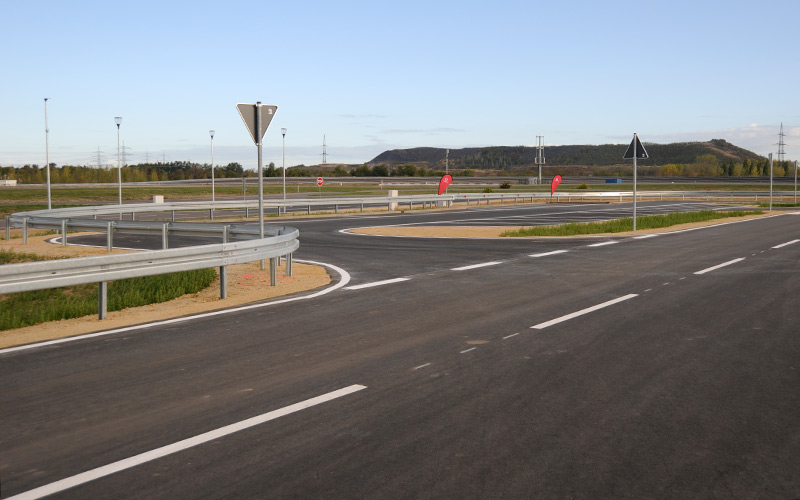 Parking area
Parking spaces of different orientation and edging (such as curbs, banks, guardrails) are available in the parking areas. They can be equipped with parking sensors.
The city environment is bookable in different packages with the intersections/straights.
The booking options are shown below.
Urban Area A
Parameter
Intersections
K1
Surface
Asphalt
Maximum length of approach [m]
170
Width in intersection area [m2]
17 x 17
Distance of connection points [m]
(network and power)
15
Lane setup
variable, up to 5
Artificial buildings
variable, built of concrete
Traffic lights
yes, V2X
Straights
G1
Length [m]
210
Width [m]
7 – 17
Multi-functional area
Surface
Asphalt
Length x Width [m2]
50 x 65
Cross slope [%]
0
Longitudinal slope [%]
1 (SE to NW)
Markings
variable, according to customer requirements
Urban Area B
Parameter
Kreuzungen
K2
K3
Surface
Asphalt
Asphalt
Maximum length of approach [m]
190
50
Width in intersection area [m2]
17 x 8 x 7
8 x 7
Distance of connection points [m]
(network and power)
15
20
Lane setup
variable, up to 3
variable, up to 3
Artificial buildings
variable, built of concrete or wood
none
Traffic lights
yes, V2X
yes, V2X
Euro NCAP Protocol
AEB VRU Version 3.0.2, July 2019
CCFTap Version 3.0.1, Fabruary 2019
Straights
G2
G3
Length [m]
260
130
Width [m]
7 – 8
8
Multi-functional area
Surface
Asphalt
Length x Width [m2]
50 x 65
Cross slope [%]
0
Longitudinal slope [%]
1 (SE to NW)
Markings
variable, according to customer requirements
Euro NCAP Protocol
AEB VRU Version 3.0.2, July 2019
CCFTap Version 3.0.1, February 2019